Leave a comment
September 15, 2020 by Stephen L Wright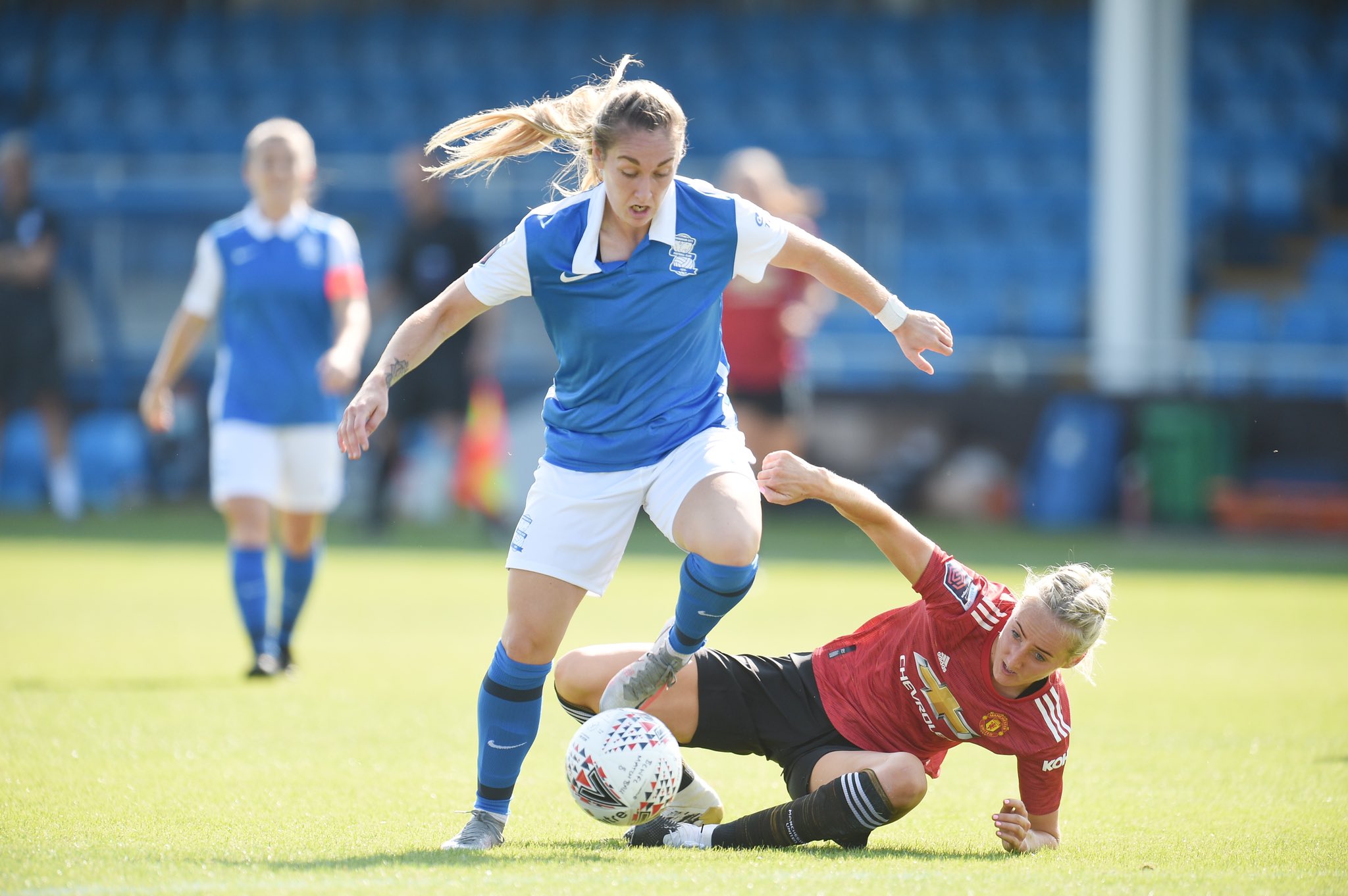 Let's start with the good news. Blues played much better than last week; at least in the first half. Despite going 1-0 down, to a Jane Ross header on the five minute mark, Blues fought back. The back line, for the most part, kept strong. Sarah Mayling harried down the right. New signing Mollie Green played some great linking football with Walker. And it was her through ball to Walker's feet that allowed the forward to slip by a defender and score her first goal since 2018.
The goal was the 'kick on' that Blues needed and they continued to put pressure on United. Six minutes after her goal, Walker was again in the box and fired at Earps, who palmed away the ball. Shouts of 'Hand ball!' erupted from the Blues' players. The referee waved it away.
Blues didn't let the decision frustrate them. Within minutes, Emma Kelly powered up the left, only to be taken down by Kirsty Hanson just shy of the area. Mayling stepped up to take the free kick and bent in a ball that McManus deflected past her 'keeper. Blues had the lead in their first match in a long, long time.
Now it was the turn of United as they hassled for the ball in midfield and set up a couple of attacks. Under pressure, Green took down Toone and Katie Zelem scored from the resulting free kick. It was then back and forth for the remainder of the half.
Within two minutes of the restart the visitors were again in the lead as a cross from Hanson was steered past Hannah Hampton by Toone. And that was pretty much that. Despite continued superb play by Mayling ,who whipped in two crosses not capitalised on by Kelly and Harriet Scott respectively, it was all United. Hanson scored twice to seal the deal for the visitors.
So why did Carla Ward's hungry players lose their appetite? Reading fan comments, there was definitely a common thought that there had been a slip back into 'old ways'. And I would agree. How often, in the past, have we seen the ball played around in the area between 'keeper and defenders? How often have we seen the ball passed back, not always to reset? How often have we seen the ball too easily lost in midfield? How often have we seen the ball hoiked over midfield to land nowhere near a Blues' forward? Now, in the team's defence, there was a distinct lack of all of these in the first half, because the ball was carried forward on the ground with determination and accuracy. But following United's third goal, they were much more in evidence. That said, and as I said at the start of this piece, the game was much better than last week. The new signings are settling in well. The most recent, Mollie Green, showed why Carla Ward values her so much. Work still to do.
Blues next match is their postponed FA Cup Quarter Final against Brighton on the 27th. Until then…
#KRO